I found this on YouTube. It has no resistors, no capacitors, just two transistors and two inductors. And and a 1.5V cell and LED of course.
I redrew the topsy-turvy schematic that was shown at the beginning. It was confusing with the minus on the left and plus on the right. It makes more sense as I show in the picture (it should say p=10990 at the bottom).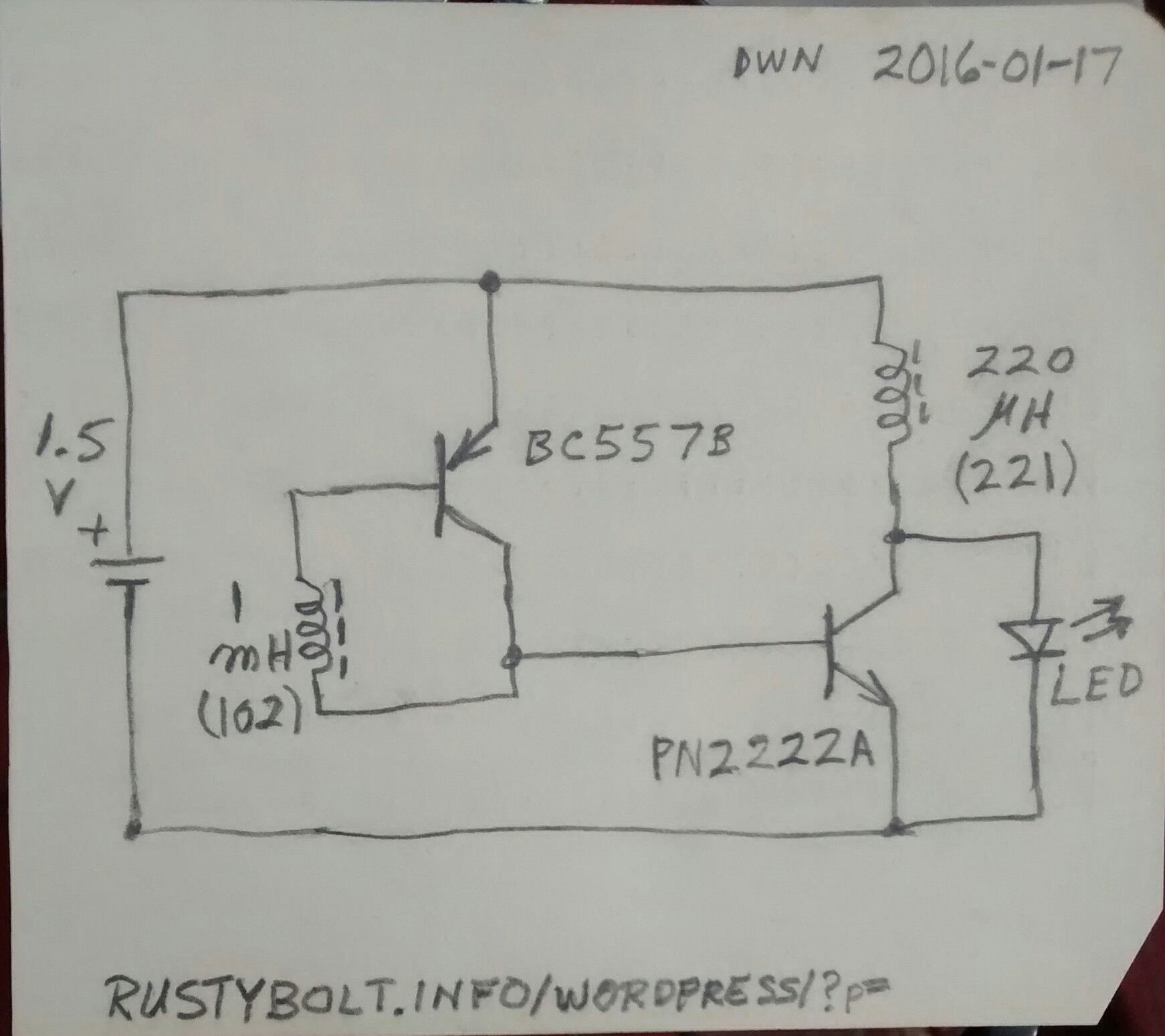 When I look at this, I see a Joule Thief with a single transistor, the PN2222A. The schematic says 2N2222A, but if it's a plastic case, it is a PN2222A. The BC557B transistor, as shown, has the base connected to the collector with a very low resistance. The 1 mH inductor is typically from less than an ohm to a dozen or so ohms, depending on its construction, so to the BC557 it acts as a DC short. As shown in the original schematic, it is separate from the 220 uH inductor. The BC557B has the base and collector tied together, so it acts like a diode between the emitter and other two leads.
This means that as the battery voltage goes above 1 volt, this 'diode' and the base to emitter junction of the PN2222A start to conduct. The battery voltage goes up to 1.4 volts for a charged cell, and these two transistors conduct heavily, with an excessive amount of current. There is no resistance to limit the current, so the two transistors may overheat and be damaged. There should be a resistor between the BC557B and the base of the PN2222A to limit the current.
As shown, the two inductors are separate. But there would be no feedback and no oscillation if this were so. The two inductors must be close together and oriented correctly for it to oscillate and make light. If they are not, and the Joule Thief refuses to oscillate, then there is nothing to prevent the circuit from drawing excessive current, overheating, and further damage.
I would connect a few hundred ohm resistor in series with the BC557's collector and the base of the PN2222A. It might help prevent excessive current. And the battery voltage should never, ever exceed 1.5 volts.