I built this Oscillator to see how far a small loop of wire can radiate the RF. I'm not using an antenna, just the radiation from the coil. The coil is about 15 feet of solid insulated telephone wire jumble wound on a pill bottle with a diameter of 50mm or slightly less than 2 inches. The width of the coil is less than 20 mm or about 3/4 inch. It measured about 49 uH. I used a 3.9 nF and 2.2 nF in series, which gives 1407 pF. This and the 49 uH coil resonate at about 600 kHz, on the lower end of the AM broadcast band.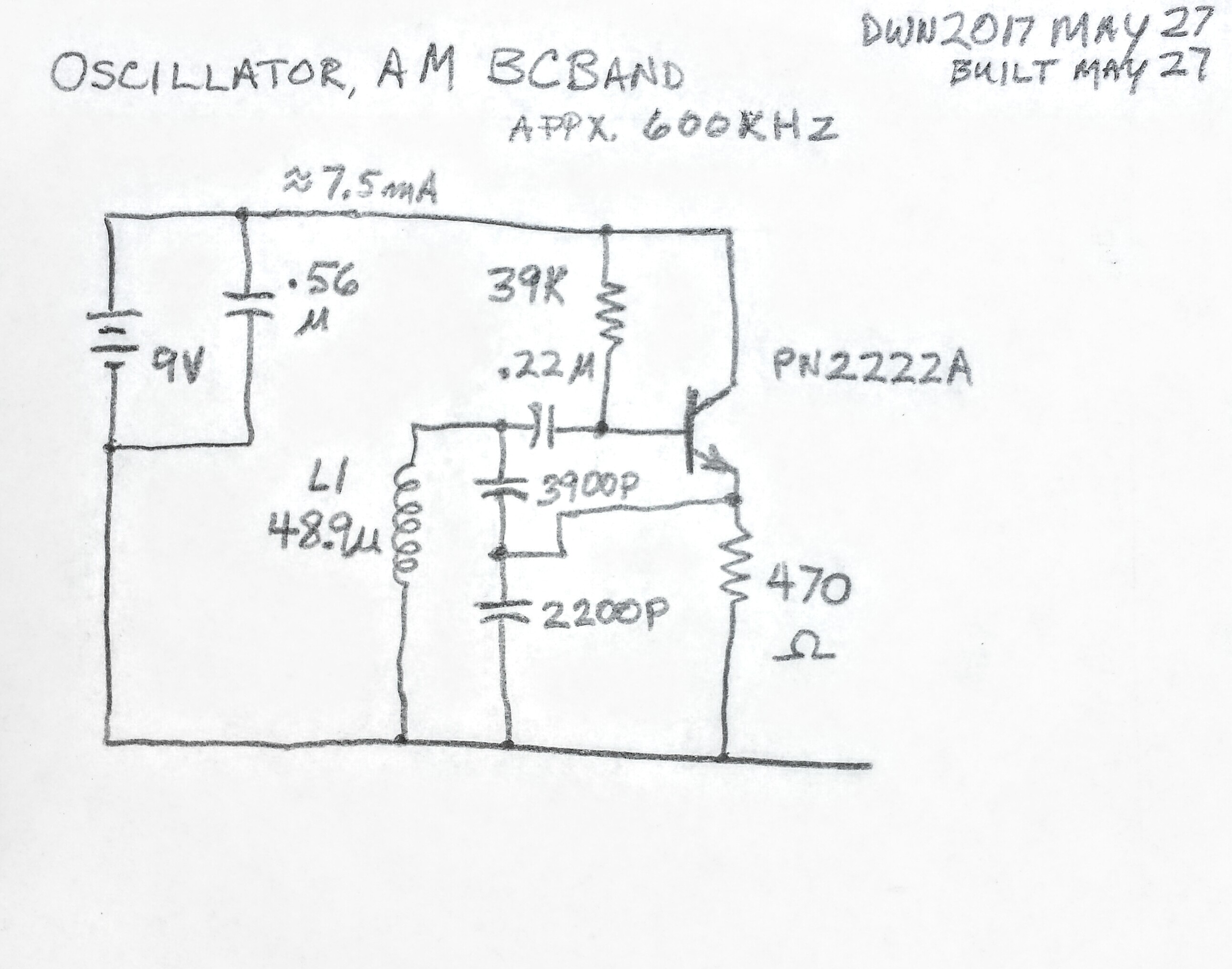 The 470 ohm emitter load resistor lets a lot of current flow, over 7 mA. A 9 volt battery won't last very long. I thought about using a 1k, but I wanted to try to see if the extra power gives extra range. I may change it later.
I put it on the interrupter that I built earlier (see blog of May 4) and to a 9 volt power supply.
I'm going to walk around with a portable AM radio to see how far the signal is radiating. There is so much man-made interference at these frequencies that it's difficult to receive the AM radio stations. I usually get a lot better results with FM transmitters.
After a short walk, I found that I could barely hear the signal outside of the house. The signal is very weak inside the house, and just 5 meters or 16 feet is all it can go before disappearing in the man-made noise. I may try a larger coil, but the coil is the part of the circuit that takes the most time to build. I think that the signal might go a little further if I put an antenna on it. The problem is the rules allow the antenna to be no longer than 3 meters, so it won't help much.